Shop
Showing all 3 results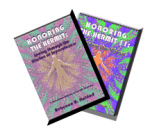 The HONORING THE HERMIT Series, written by Rebecca A. Holdorf, MA, is a collection of practical Wisdom-tradition essays and evolving spirituality as applied to real-life. She explores the most basic questions of "Why am I here? What is my purpose?" which leads to recognizing that our own connection to a power greater than ourselves is ever-present and impossible to discount in our daily lives.
Reviewers have found the books inspiring, thought-provoking, and applicable to our present situations where we are questioning ourselves and our lives for greater meaning and a lasting sense of inner peace.
Book One: HONORING THE HERMIT: Seeing through the Illusion of Separateness
Book Two: HONORING THE HERMIT II: Sharing the Vision
Books one and two are in print, with book three in the set: HONORING THE HERMIT III: Building a New World,  sold separately as an e-book.
Author signed and sent. Can personalize a dedication on title pages, if you like.
Explore your Past-Life situations for answers to puzzling present-life issues. Past-Life Explorations (PLE) can be conducted via SKYP or phone, and provide amazing personal experiences that help to move your present-life forward in a new and better direction.
Besides enjoying the awesome journey to witness other aspects of yourself and those lives lived in other dimensions and locations, you can also gain a better understanding of a present-life's issue origins, and explore the context for how it may have developed during that time period.
We can also do healings and clearings in each lifetime explored to help make your present life more enjoyable.
Highly-effective, deep-sleep hypnosis recording meant to relax body and mind into allowing sleep to naturally happen.  Created and recorded by Certified Hypnotist Rebecca A. Holdorf, MA.